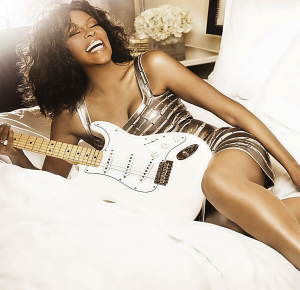 I was really impressed, especially with her emotion.  The writing wasn't always spot on, but it was a good watch and had some unpredictable surprises.  The most poignant moment for me was the way they weaved the Dolly Parton song in as a country song first.  Having it reworked the way it was to express something so different in such a different genre shows the universality of good music.  I've always loved Dolly's writing and I still think she's underrated for the genius she is.
I really enjoyed the colorblind casting as well.  This was the first big hit of a movie I believe to do that, but it was in Whitney's other favorite movie of mine (made for TV) which contained nothing but Rogers & Hammerstein songs that was truly colorblind.  In Cinderella with Brandy as the princess (casting suggested by Whitney herself when she had decided she was too old to play the role herself and instead played a young fairy godmother), Whoopi Goldberg and a white man had an Asian son, for example.  The entire medieval town had people of all shades, especially within families.
I hope people enjoy this picture I include of Whitney which I had never seen until after she died and I found it from what I believe was a European magazine spread.
I cried when she died because like Michael Jackson, she was definitely part of my life's soundtrack.